GLOBAL ADTECH MARKET
INTRODUCTION
In recent years, digitalization has made significant progress, leading to the emergence of new marketing opportunities for businesses. Digital Marketing is a crucial area that has opened up job prospects, and the proliferation of new social platforms suggests that it has a bright future ahead.
Digital Marketing refers to the practice of delivering promotional content to users through multiple online and digital channels. It leverages popular mediums such as social media and search engines to display advertisements and messages to audiences.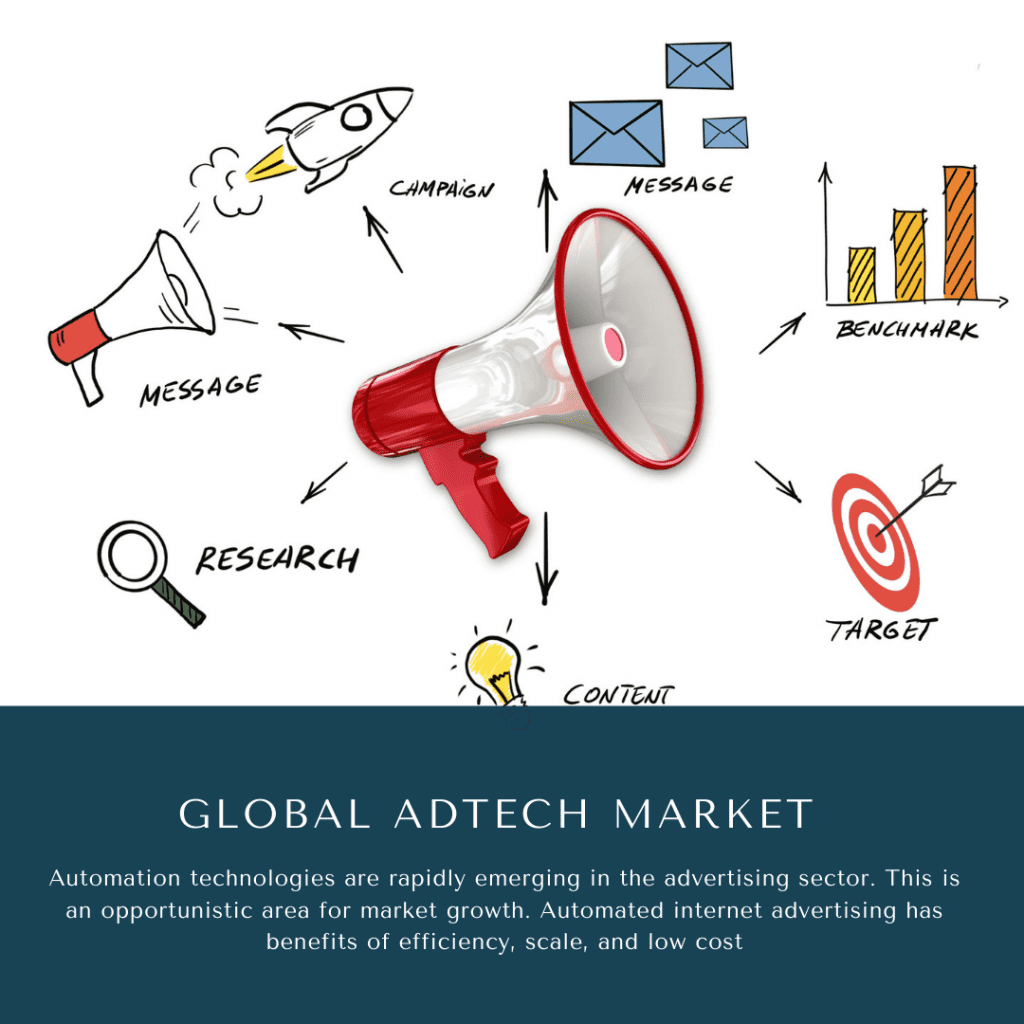 In today's digital era, consumers heavily rely on online means to research products, making advertising through digital channels more complex than it seems. Various digital marketing techniques exist, each with a specific domain of focus, such as the omnichannel digital marketing technique that allows marketers to gather valuable insights into target audience behavior.
In this report, we will explore the unique characteristics of the adtech market and upcoming opportunities in this dynamic marketplace.
The major driving factors of this market include increased technological advancements, digital spending by enterprises, the emergence of mobile devices as the preferred digital media, and a wider rollout of 4G networks. The Internet, combined with technological advancements, is rapidly increasing the potential number of internet users. The increased use of smartphones has paved the way for the growth of digital marketing and indicates prospective growth for mobile digital marketing platforms. However, digital advertising frauds and the growing use of ad blockers hinder the growth of this market, making it difficult to reach potential customers and promote businesses.
In this domain, various types of advertisements exist, such as click-to-call, image text, banner ads, and others. Additionally, the concept and usage of 6-second ads are gaining popularity on social media platforms.
The market is mainly segmented into three types: platform and ad format.
Based on the platform, the market is divided into mobile ads, desktop ads, and digital TV. Based on the ad format, the market is divided into digital display ads, internet paid search, social media, and others. Among all forms of digital marketing, the video format of digital marketing is expected to see prospective growth in the forecast period. Video ads capture the audience's attention better than any other type, making digital video marketing an area of increasing spending.
The major regions for this marketplace are North and South America, Europe, Asia-Pacific, the Middle East, and Africa. The North American region is highly matured in terms of digitalization and online activities, creating ample opportunities for advertisers. Increased investments in digital ads are expected to further drive this market in the North American region in the forward direction.
The United States, the foothold of major advertisers like Google Incorporation and Facebook, is also expected to see growth in the marketplace. Mobile advertising spending is expected to increase in the United States in the forecast period.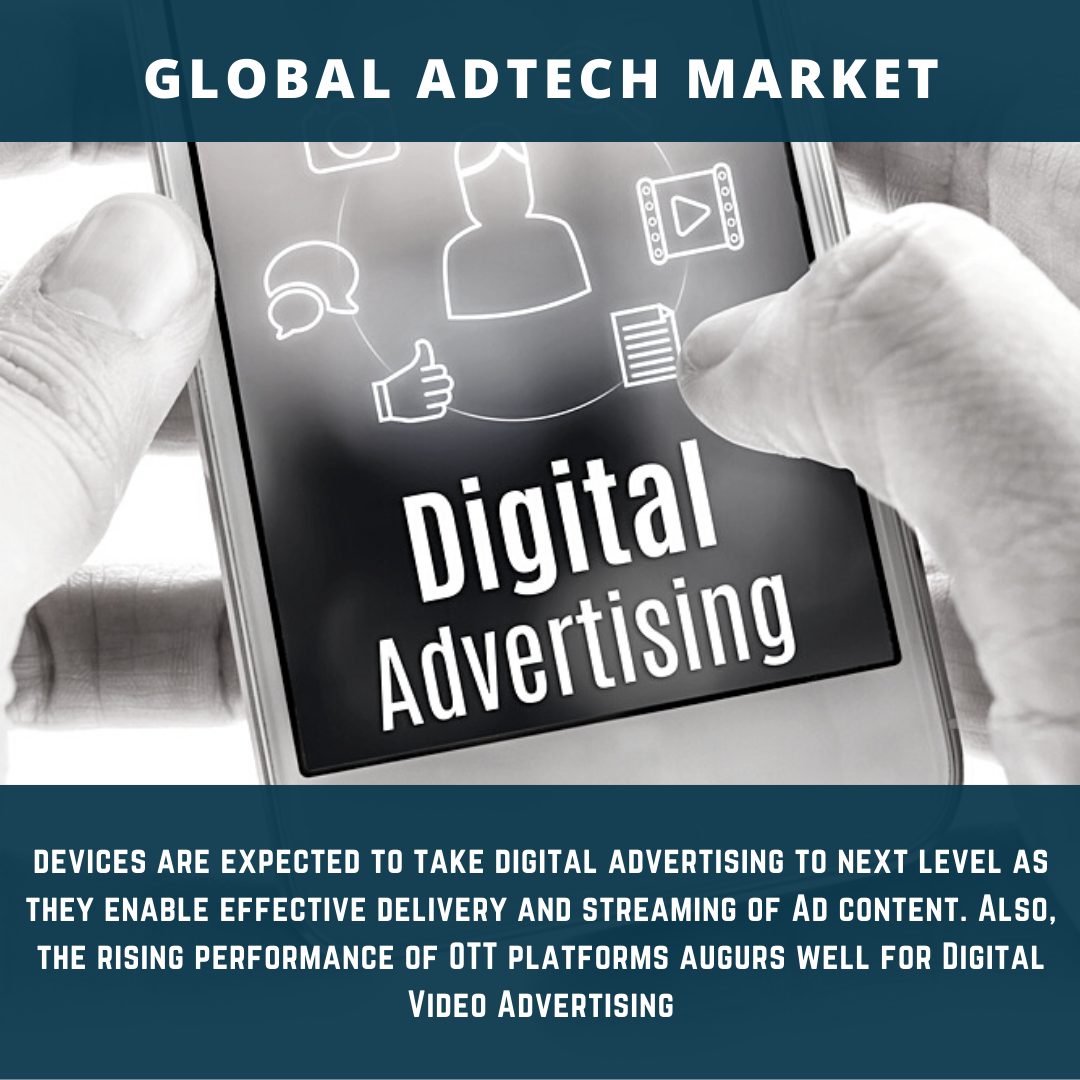 The rise of digitalization has given birth to a highly competitive landscape in the Digital Advertising market. The market has seen an influx of global companies that are constantly innovating and adopting new strategies to stay ahead of the game. Mergers and acquisitions, as well as service innovations, have been some of the key strategies employed by these companies.
Smart.io, for instance, has partnered with Pinterest to offer brands new ways of innovating and connecting with customers. Microsoft Advertising has introduced multi-factor authentication in Microsoft Advertising online, while Tech Mahindra has collaborated with InMobi to offer video advertising solutions. This solution helps advertisers to develop and distribute engaging and innovative video advertisements on mobile phones.
Technologies like Augmented Reality, Buy Buttons, and Wearable Technology are set to create new opportunities in the market, enabling effective delivery and streaming of Ad content. The rise of Over-The-Top (OTT) platforms has also opened up new avenues for Digital Video Advertising. Snapchat, for example, is leveraging Augmented Reality to display items in real-life environments, creating an effective impact on customers.
Automation technologies are also rapidly emerging in the advertising sector, providing an opportunistic area for market growth. Automated internet advertising is more efficient, scalable, and low cost. Google has integrated advertising automation through automated bidding strategies, automated copy, and automated PPC reporting. Facebook has been using automated technology to check user's campaigns, ad sets, and advertisements.
COMPANY PROFILE
Some of the major competitors identified in the market are listed below:
Acxiom Corporation

Alibaba Group Holding Limited

Conversant Incorporation

Yahoo! Incorporation

Baidu Incorporation

Dentsu Aegis Network

DoubleClick Incorporation

Facebook Incorporation

Eniro AB

Verizon

InfoSpace Incorporation

Applovin Corporation

TOM Group Limited

Xaxis

TradeDoubler AB

Sina Corporation

Tencent Incorporation

Sohu.com Incorporation

Oath Incorporation

IAC Corporation

Conversant Incorporation