Top Tech Companies with the Best Paying Jobs in 2023
As Artificial Intelligence (AI) and Business Intelligence (BI) have moved from concept to reality, top tech companies in every segment (e.g., Internet services, hardware, software, etc.) offer exciting opportunities for MBA graduates.
The average salary range for MBA graduates from top business schools in tech is between $54,989 and $2,00,000, and the highest paying jobs in tech include Data Scientist ($130,000), Site Reliability Engineer ($200,000), and Machine Learning Engineer ($189,000).
Tech giants, also known as "big tech" - Microsoft, Facebook, Amazon, Apple and Alphabet - are recruiting heavily for MBA graduates with deep knowledge of technology. In addition, 20,000 new tech jobs have been created each year since 2010 in the U.S. alone, and due to the shortage of tech professionals with the appropriate skills, many business schools have adopted a tech-inspired MBA curriculum (e.g., STEM MBA ).
In addition, the shortage of skilled professionals in the tech industry demonstrates how great the opportunities are for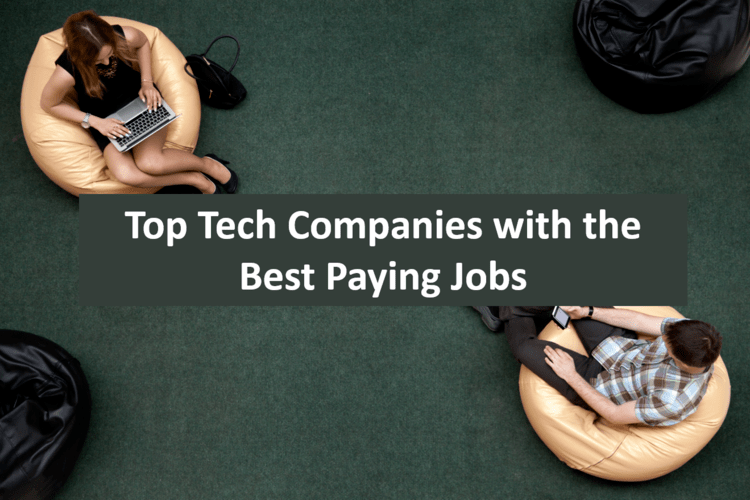 In this article, we analyze the top tech companies to work for in 2023, based on various parameters such as the number of MBA graduates hired, compensation, and job satisfaction. The article also covers the skills required to pursue a career in Technology.
Here is an outline of the article:
Top Tech Companies to Work for in 2023
To evaluate the top tech companies, we have taken rankings from PayScale Report based on the average salary, job satisfaction, job meaning, and job stress. Also, Vault's Technology ranking is taken into consideration where the classification is on executive ratings in categories such as benefits, salary, quality of life, career advancement, and overall satisfaction.
Here is the list of Top tech companies to work for in 2023:
Facebook
Google
Microsoft
LinkedIn
IBM
E-bay
Adobe
Amazon
Apple
Cisco
HP
Intel
Oracle
Salesforce
Samsung
SpaceX
Tesla
Qualcomm
Best Paying Jobs in Technology
The technology firms are known for offering perks like onsite gyms, doctors, stock options, etc. According to the PayScale report on Top Tech Company's salaries, Facebook employers report the highest median salary of $116,800, followed by LinkedIn ($110,800), and Google ($106,900).
However, if we compare the salaries of employees with ten or more years of experience, experiences LinkedIn employees take home $159,600, followed by Salesforce ($154,600) and Google ($151,600).
When it comes to job satisfaction, Facebook ranks number 1, with 96% of job satisfaction followed by Google (89%), and Adobe (84%). However, the percentage of employees at SpaceX reports the highest level of job meaning (92%) followed by Tesla (89%), and Facebook (78%).
In addition, 88% of SpaceX employees say that their jobs are stressful, followed by Tesla (70%), and Samsung (69%).